Taekwondo 태권도
Taekwondo Preschool
Taekwondo is known for its emphasis on high kicking and fast hand techniques, which distinguishes it from other popular martial arts and combat sports such as karate. However, the World Taekwondo Federation (WTF) believes that because the leg is the longest and strongest limb a martial artist has, kicks thus have the greatest potential to execute powerful strikes without successful retaliation.
View Taekwondo 태권도 »
Sport Psychology - Mental Toughness
---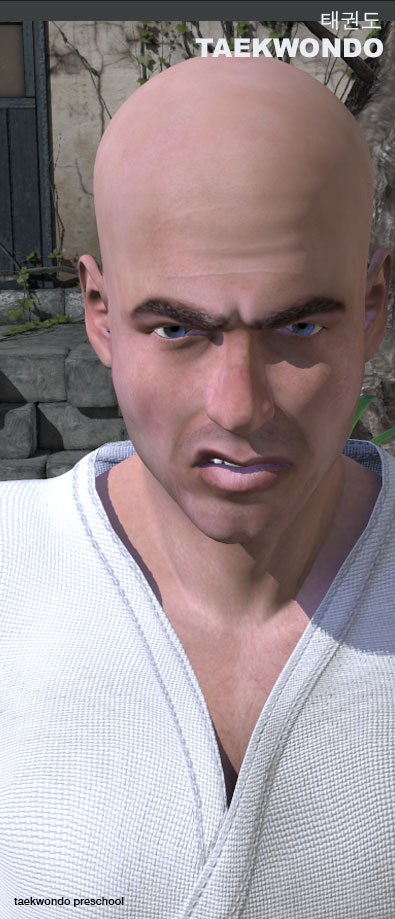 Mental toughness is a collection of attributes that allow a person to persevere through difficult circumstances (such as difficult training or difficult competitive situations in games) and emerge without losing confidence. The term is commonly used by coaches, sport psychologists, sport commentators, and business leaders.
Mental toughness is a contested term, in that many people use the term liberally to refer to any set of positive attributes that helps a person to cope with difficult situations. Coaches and sport commentators freely use the term mental toughness to describe the mental state of athletes who persevere through difficult sport circumstances to succeed. Only within the past ten years has scientific research attempted a formal definition of mental toughness as a psychological construct.
"Mental toughness is many things and rather difficult to explain. Its qualities are sacrifice and self-denial. Also, most importantly, it is combined with a perfectly disciplined will that refuses to give in. It's a state of mind – you could call it character in action."
Dr. Jim Loehr of the Human Performance Institute, in his book The New Toughness Training for Sports, defined mental toughness as:
"The ability to consistently perform towards the upper range of your talent and skill regardless of competitive circumstances."
Developmental Studies
There is an active debate about whether mental toughness is primarily a developed characteristic, or has a genetic basis. Two studies suggest that foundational processes occur during development that allow a person to build mental toughness throughout life. For instance, a study of American soccer players, parents, and coaches found that parents provide a "generalized form" of mental toughness upon which coaches can build a sport-specific form of mental toughness. A similar study suggested that mental toughness development proceeds first through the development of a tough attitude (strong focus and strong self-belief); upon a tough attitude, an athlete learns how to develop mental toughness attributes needed for training, then for competition. Another study examined the developmental experiences of ten super-elite athletes and found that coaches and significant adults played an important role in mental toughness development through all stages of talent development
Similar Constructs
Mental toughness has been equated with better understood constructs from psychology such as resilience and hardiness. The term resilience is often used interchangeably with mental toughness. However, psychologists define resilience as a positive process of coping with stress and adversity, as opposed to a collection of psychological attributes or personality traits. Hardiness has been suggested as a similar construct to mental toughness. Hardiness has typically been constructed as a personality trait, which is generally seen as stable throughout the lifetime. This differs from the conceptions of mental toughness offered by both Jones et al. and Gucciardi et al. These authors both conceive of mental toughness as unstable, arising in development, fluctuating over time, and varying for an individual performer between different sport and life scenarios.
Mental toughness is very hard to explain through words and can truly be understood when put to the test in an intense situation where you feel like you are at a breaking point, and find an inner will within you to push forward and overcome the situation. There are those who face stressful situations and back down and let them trample them, these people crumble during life. Then there are those who when faced with stressful, energy draining situations take them by the horns and conquer them, and it fills you with such a great energy and confidence, that helps you with every obstacle that you have from there on.
Related articles
Indomitable spirit ( Baekjul Boolgool / 백절불굴 ): "To have indomitable spirit means to have the courage to stand up for what you believe in, no matter what odds you are up against, and to always give 100% effort in whatever you do." View Taekwondo Tenets »
RESOURCES
This article uses material from the Wikipedia article "Mental Toughness", which is released under the Creative Commons Attribution-Share-Alike License 3.0.